Is your supply chain robust enough to cope with future challenges?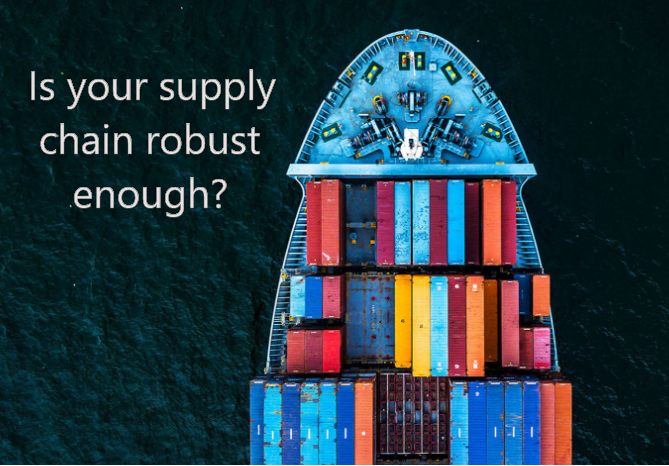 We examine how supply chain resilience is a pressing priority in light of COVID-19
According to recent research, over 80% of organisations reported that COVID-19 had a negative impact on their supply chains. 55% of businesses said it took 3 – 6 months to recover, with 13% expecting a recovery to take 6 – 12 months. The whole unprecedented situation has led more organisations to question the resiliency of their supply chains. While fully aware that we're definitely not out of the woods yet, many are keen to put plans in place to not only adapt to this new normal, however fleeting it may be, but to stand firm in the face of future disruption too.
The global pandemic has undoubtedly brought with it a whole host of challenges, including shortages of parts and materials, delayed shipments and longer lead times, as well as
difficulties in planning in-line with volatile customer demand. It's proven to be a wake-up call for businesses, causing them to rethink their supply chain strategies with a view to boosting their resilience to weather future storms. By putting in the groundwork now, businesses can create a more resilient, flexible and agile supply chain, providing a solid platform for future business growth.
Extra-agile supply chains
So, what does this resilient supply chain look like? For many businesses, the focus for a long time has been on securing cost reductions. In light of the disruption of the last year, some organisations are now wondering whether these cost savings have actually been at the expense of supply chain efficiency. That's not to say that cost savings aren't possible, as long as they're not to the detriment of the rest of the business.
While firms have been quick to diversify manufacturing, supplier and transportation options wherever possible in an effort to resolve certain supply chain issues, this is a short-term fix to a long-term problem. What's needed is an overhaul of the entire supply chain, creating flexible, agile and transparent networks, capable of reacting and adapting quickly to potential disruption, with the right infrastructure in place to underpin the required levels of business agility.
The most efficient supply chains provide truly joined-up working, held together with a centralised system which spans all business processes. Such systems deliver comprehensive visibility across the entire supply chain, allowing the business to extrapolate maximum value from every aspect of its supply chain. It's the right technology that makes supply chains more autonomous and intelligent, two key enablers of resilience, allowing the business to sense and adapt to changes quicker and more effectively than ever before.
Supply chainsuccess
Such supply chain solutions bring greater accuracy to business information, pinpointing exactly where inventory is located, while identifying who needs it, and the best way to get it there – all in real time. They bring together disparate businesses processes, including sales and purchasing, providing new depths of insight across the supply chain, integrating inventory, manufacturing and logistics information in a single solution. This enables the business to rapidly identify issues and bottlenecks, taking proactive steps to address these before they have a negative impact on the wider business.
This accuracy and depth of information underpins more robust decision-making, furnishing the right people with the right information at the right time in the right format. It's this rapid, robust decision-making that creates a truly agile organisation, ready to react to changing customer and market demands with optimum levels of efficiency. This insight also enables more accurate forecasting and demand planning too, reducing excess stock levels and improving business responsiveness too.
In addition, advanced reporting functionality puts everyone across the organisation in the picture, in full possession of a comprehensive view across the entire supply chain – the key to achieving optimum supply chain resiliency. By taking the necessary steps now, reviewing existing systems and processes, and investing in the business infrastructure, organisations can create more robust supply chain, resilient enough to cope with future challenges, whatever shape they might take.
For moreinformation on how Pegasus can help boost your supply chain resiliency, contact us here.
Posted On: January 27, 2021