The Pegasus Capital Gold Payroll allows you to manage your payroll and legislative needs.
Capital Gold Payroll is available in three versions – Lite, Standard or 300 to cater from 25 – 300 employee systems with up to 25 companies for processing needs.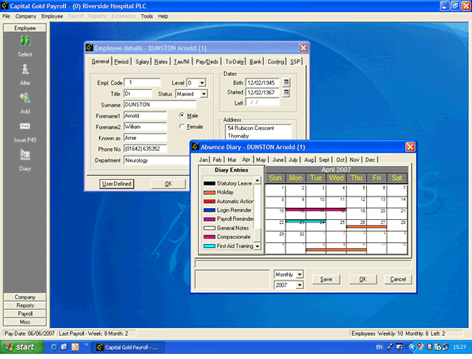 Weekly, fortnightly, 4 weekly, monthly and quarterly processing

Net to Gross payments
Multiple bank accounts
Up to 999 payments and deductions
SSP, SMP, SAP, SPP, ShPP and SPBP calculations
Apprenticeship Levy, Employment Allowance and Attachment Orders
RTI Submissions
Receive messages from HMRC
P45, P46 and P60 reports
Part payments for starters and leavers
Comprehensive reporting
Up to 9 years history
Pegasus Capital Gold Payroll is the ideal payroll solution for smaller businesses. It has been designed to ensure that complicated payroll procedures are simplified and performed automatically.
Auto Enrolment and Pension Provider Integration
The Auto Enrolment and Pension Provider Integration component provides the facilities to help you remain compliant by keeping employee records and creating nominated automatic enrolment schemes as well as categorising the workforce according to automatic enrolment criteria. Capital Gold Payroll is available to purchase on an annual basis from £1,153 including upgrade cover. Further features include;
Hold key employee information (NI number, date of birth etc)
Hold payment information including qualifying earnings and contributions paid
Define the qualifying earnings for the scheme
Define the pensionable pay for the scheme
Workers will be categorised as "Entitled worker", "Non-eligible jobholder" or "Eligible jobholder"
Automatically enrol qualifying employees into the nominated automatic enrolment scheme
Calculate the employer and employee pension contributions according to pensionable earnings
Reduce risk of human error
Save admin time of having to run your payroll twice and manually categorise your workforce
A key feature is the Pension Provider Integration which provides an electronic link to the provider with all of the information required in the correct file format. Supported pension providers include Aviva, Friends Life, LGPS Pensions, NEST, NOW Pensions, Peoples Pension, Royal London, Scottish Widows, Standard Life and Teacher's Pensions.
Support
We have a level of support for all your needs from Upgrade Cover through to Platinum Cover and upgrades to the latest version of software for total peace of mind.