The Sales Ledger has built-in credit control facilities so that customer account information is all at your fingertips. And it makes revenue forecasting easy with the automatic calculation of average debtor days for both individual customers and your entire company.
You can e-mail statements, copy invoices and debtors letters. You can view your sales information in a way that is meaningful to you, as Opera 3 offers Views that you can customise. And of course, it caters for multi-currency and handles all your customer profiles and trading terms, as well as invoices, credit notes, receipts, refunds and adjustments.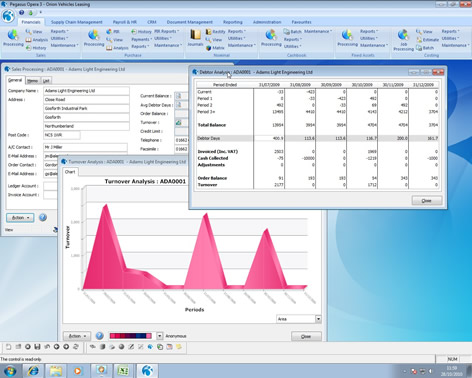 The Retrospective Debtors report in the Sales Ledger produces a list of outstanding customer debts as at a date specified, aged according to the length of time the debt has been outstanding. For example, to rerun your Debtors report at 31 December 2010, you simply enter that date and the report calculates the debtors position at that time. The report can be printed and output to Excel.
>Watch the Retrospective reporting video demo