Pegasus CIS has been specifically written for small to medium-sized (SME) contractors in the construction and allied industries. It eases the administrative burden of running construction projects, whilst providing all the management tools necessary to ensure that all critical information is readily available to the management team.
The system allows direct costs to be input against a contract, as well as costs derived from labour timesheets, purchases, stock and sub-contractors. A wide range of analysis reports are available, offering views of the current status of contracts, including job performance and detailed profit analysis reports.
Pegasus CIS includes a self-contained Contract Sales Ledger that works in conjunction with the accounts Sales Ledger. The Contract Sales Ledger maintains details of the current Payment Applications, together with all previous Applications; it also contains information on current and cumulative revenue values together with retention, main contractor discount, contras etc.
Contract Sales Ledger
Payment Applications can be printed and certified, payments can be recorded, invoices generated and retentions tracked. When the payment is received it can be entered in batches and allocated to one or more Applications. For Applications, VAT is taken into account at time of payment. It is also possible to create standard invoices, where the VAT is recorded at the date of invoice.
Knowing when payments are due is critical to successful management of cash flow within any organisation. Pegasus CIS comes with comprehensive aged debt reporting features to allow these payments to be monitored.
Subcontractors Ledger
Pegasus CIS includes a Subcontractors Ledger that combines the functionality of a Purchase Ledger with the regulatory requirements of HMRC's Construction Industry Scheme. With Pegasus CIS you can verify new subcontractors both manually and online. Once verified, the system knows whether the subcontractor is paid gross or net, and if net then to deduct tax at either the lower or upper rate. Pegasus CIS also allows you to produce the CIS 300 monthly report and to submit this manually or online.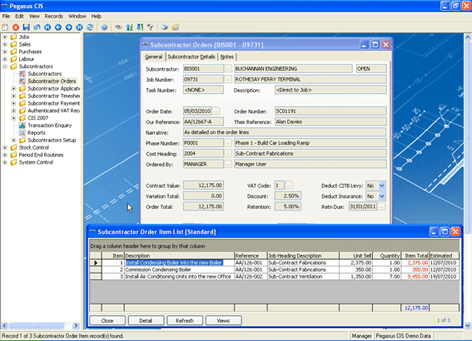 Subcontractor Applications for Payment can be entered, detailing both current and cumulative values of net, gross, discounts and retentions for the specified contract. When a Subcontractor Application for Payment is approved, it is possible to produce a Payment Certificate that can be sent to the subcontractor with the payment. There is also a separate posting routine for timesheet only subcontractors.
Labour costs
It is possible to enter employee timesheets directly into Pegasus CIS, post these costs to the contract and post these timesheets into the Payroll so that payslips are produced. The timesheet data-entry routines are fully optimised for fast entry of data, ideal for companies that need to process large data volumes. For companies that prefer to enter timesheets in the Payroll, it is possible to export them out of the Payroll and post them into Pegasus CIS.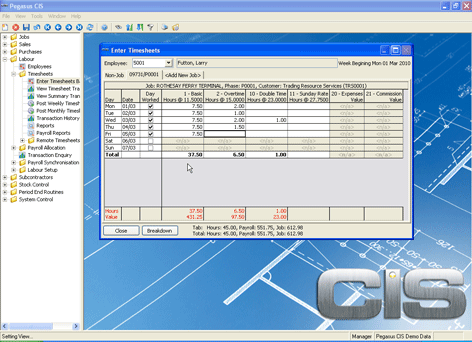 Once the Payroll has been run it is possible to post the 'on-costs' into Pegasus CIS. This means that additional costs such as National Insurance, Pensions, CITB Levies etc can be posted back into the contracts. It is therefore possible to post labour to a contract as a charge-out rate, or as net or gross costs.
Contract purchasing
Pegasus CIS includes a Purchase Order Processing system that allows committed costs of a contract to be monitored by raising purchase orders against that contract. As deliveries are received and invoiced the purchase order is updated, maintaining an accurate picture of the committed costs. It is possible to arrange for deliveries to be made directly to site, knowing what is still to be delivered; all of which contributes to better site management.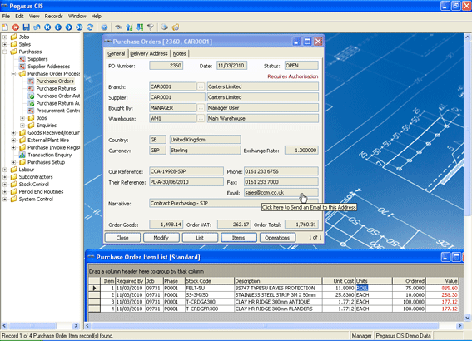 The system is flexible, so that it's possible to turn off the Goods Received Notes section and simply raise purchase orders and match to the incoming purchase invoices. Purchase invoices that do not need to be directly related to a contract can be allocated directly to a nominal account. The purchasing fully supports multi-currency, allowing you to raise purchase orders in currency and receive currency purchase invoices.
Procurement control
This is used to co-ordinate the purchasing of goods across the entire company, potentially against multiple Jobs and multiple Suppliers. Goods purchased using Procurement Control will be assigned to one or more Purchase Orders depending on the options selected.
This is intended to be used to process large volume orders quickly for delivery to a Job Site Address, Phase Site Address or Warehouse Address. If the Procurement is raised against a Bill of Requirements, this allows buyers to review the entire list of Job requirements and tag items (in full or partially) to be bought. This provides a rapid Job purchasing routine for buyers.
Plant hire
Purchase Orders can be raised for Hire of Plant supplied by external suppliers. Plant can be ordered against Jobs, which posts committed costs to that Job. It is possible to record "On Hire" and "Off Hire" dates so that plant does not remain on site unless required.
Impressive functionality
Pegasus CIS is an application that covers all the requirements of contract costing: handling all the revenue and costs associated with running a contract, controlling materials, purchase orders and purchase invoices, through to the regulatory requirements of HMRC's Construction Industry Scheme. Fully integrated into the accounts system and payroll, Pegasus CIS truly transforms a company's ability to profitably manage contracts.
Powerful reporting
Pegasus CIS also integrates with award-winning Pegasus XRL, an intuitive tool that allows Microsoft Excel access to live data at the click of a mouse. It seamlessly integrates your financial information into Microsoft Excel in a couple of simple steps, so you don't have to copy and paste, re-key or work out formulas.
The MIS features in Pegasus CIS also include export features to Microsoft Excel, providing powerful and adaptable access to the information held within both Pegasus CIS and the accounts system. This means Pegasus CIS delivers fast and accurate information and enhanced analytical power, which assists and simplifies even the most complex decision-making process. Purpose-built functions allow dynamic access to data in the Pegasus CIS system to populate Excel worksheets.
Sophisticated and flexible analysis
The Management Information System (MIS) features of Pegasus CIS easily adapt to the analytical requirements of a business. They make it easy to analyse key information, such as costs or revenues, by Contract, Project, Analysis Codes, Cost Head etc. Budgets and estimated costs can be specified at Cost Head level while the system will maintain the Opening, Actual, WIP, Committed, Other Costs and calculated costs to completion. The financial position is always available and can be analysed and interrogated using the highly configurable and user definable dynamic View screens.
Linking Pegasus CIS to your accounting solution
The following diagram details the main data flow between Pegasus CIS and Opera 3. It is also possible to integrate Pegasus CIS into Opera II, Sage 50 and Sage 200 accounting systems.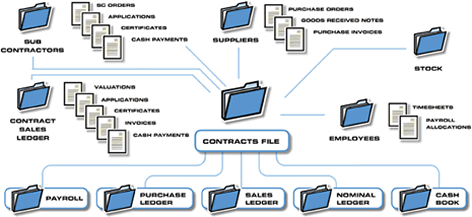 Nominal Ledger integration
Pegasus CIS fully integrates with the accounts system; the prime requirement is to eliminate double posting of transactions so that no manual posting is required. All transactions posted to the Nominal Ledger are stored in an audit file for analysis and reporting.
Purchase invoices entered into Pegasus CIS are posted to the contract and to the accounts Purchase Ledger, handling both the Nominal Ledger and VAT allocations. Similarly, sales invoices produced within the Contract Sales Ledger are posted to the account Sales Ledger. Other transactions posted to a contract, including timesheets, will raise an entry in the Nominal Ledger. A transaction posted into Pegasus CIS that has an effect on the P&L, Balance Sheet, VAT account or Cashbook has a Nominal Ledger Journal created, using the default Nominal Ledger account codes which come with the system.
Stock Control
Integration between Stock Control and Contract Purchasing allows stock to be ordered from suppliers against contracts. Stock can be Allocated, Reserved and Issued to a contract, posting relevant costs to the contract. When allocating stock to a contract it is possible to nominate the period in which that allocation is required. This is extremely useful where there is a requirement to plan stock issues to a contract based on when it will be required.
Stock can hold up to three dimensions (such as length, breadth, height) which can be used on the purchase order to calculate and allow ordering in, for example, square metres. The stock system is multi-warehouse and multi-location, so it is possible to look at all stock in a warehouse or at a site.
Monitoring stock levels, knowing where stock is located and knowing what needs to be ordered and when, are all elements managed within the Pegasus CIS Stock Control module.
Site Requisition
This option tracks requests coming in from site and allows available stock to be issued to the Job with an accompanying delivery note. Site Requisitions have an added advantage over standard Stock Issues in that stock can be issued from multiple locations for the one Job. These Site Requisitions can be entered, picked and approved. Once approved, they can be used to post the related stock issues and generate the Delivery Note for passing to the issuing stores. This provides a powerful yet controlled method of allowing stock to be requested from the site office.