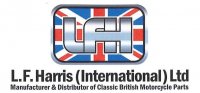 LF Harris International Ltd
Opera 3 improves efficiency, decision making and customer service at motorcycle parts firm.
Opera 3 improves efficiency, decision making and customer service at motorcycle parts firm.
LF Harris (International) Ltd, a manufacturer and supplier of classic motorcycle spare parts to the trade has upgraded its accounting software to Opera 3. The upgrade has not only improved efficiency at LF Harris, for example by reducing payroll processing from half a day to half an hour, but has enhanced customer service and decision making at the firm.
LF Harris has been operating for almost 40 years, employs 15 people and is based in Torquay. It supplies around 5000 parts for classic Triumph, BSA and Norton motorcycles, dating as far back as 1938, to over 250 customers located around the world.
LF Harris has always run its business on Pegasus software. The decision to upgrade to Opera 3 was based on the improved look and feel of the new software, as well as the added efficiency, and better decision making it would bring.
Opera 3 touches every aspect of the LF Harris business, improving administrative processes and overall business operation.
For example, by linking Opera 3 to LF Harris' stock control processes, sales teams can accurately inform customers of expected delivery times, thereby improving customer service. Additionally, back order processes are now automated within Opera 3, making it easier to fulfil orders and notify customers accordingly.
Opera 3 has simplified payroll processing at LF Harris, reducing the time taken to analyse hours worked, overtime and benefits. HMRC compliant reports are straight forward to produce, bringing additional efficiencies to the process.
Opera 3 also provides an overview of how the business is running. For example, historical customer or supplier records are effortless to access, enabling any issues to be quickly identified and addressed.
"I'm not an accountant but I need to access financial information in a user friendly manner," says Shirley Harris, managing director and co-founder of LF Harris. "Opera 3 is easy to use, particularly as it has the same look and feel as Microsoft Windows. As well as streamlining business processes, Opera 3 provides me with the real-time, accurate information I need in order to decide how best to drive the business forward. As such, Opera 3 has become the backbone of our company and is fundamental to how we operate."